We deliver complete systems for packaging, labelling and palletizing your goods. We can offer effective technology according to product type and required capacity.
Transport and handling systems
Transport and orientation of products ready for packaging and palletizing. Roller, chain and belt conveyers in combination with the manipulator and robotic arms.
Packing products into stretch or shrink foil. Pulse or ultrasound sealing of foil. Packing into a stretch hood.
Marking products with an online printed label or inkjet printing, inserting or sticking-on a pre-printed leaflet or label.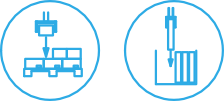 Loading products onto pallets in a required arrangement.
Strapping the pallets, wrapping with stretch film, packing into a stretch hood. Inserting protective elements such as covering sheets and protective corners.